Welcome to
Kennel Agazzis!


My name is Lena and together with my husband Mikael we're planning breeding of Staffordshire Bullterrier. We have five Staffies that we've imported from the U.K.
The male is called Blue and the female is called Diamond. We also have three puppys that we're gonna use further ahead in our breeding. We live in a house with a big garden with forests all around us, so we do a lot of outdoor activities. We go for walks every day, bicyclerides and sometimes also pulling a light trailer.

I spend all my time with my dogs.
Latest News!

He's sired the G-litter. Have a look at the puppys page and see how beautiful they are.
About the male Mr Blue:
L-2HGA Hereditarily Clear
HC-HSF4 Hereditarily Clear
HD: C ED: 0


2014-04-05 MH tested-mentally tested.


vaccinated according to schedual
Hight: 40 cm
Weight: 16,5 kg
Colour: Blue with white marings on his chest and white socks on both front legs.
Offsprings: two females, one male.


Click

the image below, a new window opens, zoom by using ctrl+/-.



My husband Michael is the owner of Mr. Blue as he is known and he has raised him from the beginning and now that he no longer has the same time to spend on him I'll be handling his training. Mr. Blue is a cool guy who loves to be outside and not in spite of, or punk age, he has had, at least not what we have discovered. He is always obedient and comes directly when you call. He loves to be out, for him not playing any role in the weather. He gladly walk in rain, snow and cold. We walk a lot themselves and sometimes with other dogs and it works amazingly well. He performs excellent with small children, had two children on loan for nearly a week was 8 months and 3 years and he is amazingly conservative. When we brought home puppies so he thinks that they are fun and comfortable to be with. It works that they play with his toys, lies in his basket and bites and hangs on him. He loves being with them and playing. He lets them kiss him more than I think he should let them. He's too kind. In the summer he loves to lie out and sunbathe on the terrace. He thinks that evening in front of the TV is a treat then he can walk around and smirk at everyone a little while. He loves when we get visitors. He loves people, especially them that pet him all the time. He's got a very thick coat and gets hot pretty quickly, however, so he can not be too tight against us constantly. Anyone who says that the color blue would give the thin and poor coat have not seen our staffies. We don't know anyone who has so dense and thick fur on their staffies that our two regardless of color. I usually never have my dogs in bed until they become adults, so now they have been sleeping in the bed a few times and they absolutely love it. They can not sleep under the covers as my friend staffie can do though. Then they would die from the heat.


MH-test The Blue Legend 2014-04-05 at Tranås dog club




Our understanding of how the MH-test was compared to how he is at home:
First, we meet with the judge and he was very good to greet him, joined him on the leash wich he did well. To our surprise, he liked to fight for the toy that was funny. He is not one who is so fond of fighting for a toy at home. Then we went up to the track where we check hunting interest. He immediately saw the little white cottony thing and took off after. At home I do not think that he's the one who has the greatest interest in hunting, but he is always very alert and see all the fun that is going on. Then he should be passive and he was calm and ate some grass and just stood there. Then there was the helper who went in a coat that would entice him to play and certainly looked interesting, he took an extra goodness down to me and then he ran up and greeted the person. Then we came to the overall. He barked when it came up, but then came back and smelled. Then it was time for the loud noise, the same thing there, he reacted, but went back and checked out what it was. It was no problem to walk past there or at the overalls either. At the ghosts he barked a few times, but stood by Mike and he was so happy when he saw that the ghosts were people. Next was the shot and he reacted that he did, but not the way we felt that the judges thinks did. He paused, trying to locate where it came from and then he went the other way to check if it was from there it came. The judges did not think we should run several shoots with him because they thought he would be scared for life! We talked with them and agreed that we were going home and practicing shots and cancel, but they did not write that we interrupted in the papers. He got a 5th in shot. Luckily, we have it on film, two friends who I talked to afterwards in the phone asked both of them if he ran to the car??? because we got a 5th? Cause that's usually what the dog gets if he leaves the area...In conclusion, we can say that we had a fun and relaxing day with great weather and a lot of exciting things happened.

Movie from the MH test:



Picture from the Hip X-ray:
HD/AD 2013-12-09. I photographed with my cell phone, however, only the HD picture. He got the result HD C / C.

He has yet no hip problems and HD-X-ray is a matter of assessment of all parties involved, not to be compared with a DNA test. Hips are not made ​​for a staffie and mätpunktern called Norberg angle based on a German shepherd as a template. There is no template that is specifically made for some other dog breeds but all are judged according to the German Shepherd dog. The dog's weight when it walks is on the elbows, so therefore we are pleased that the result was AD 0/0. The dog gets bigger problem if the results are wrong there than the hip joints. The fact that we have been x-rayed, you can avoid exercise where the hips gets extra load, therefore I think it is good to check the dog, so you do not preform agility or other exercise with quick turns, which in that case can create burdening.

I do this test mainly to give me a hint of what excercises the dog can perform and still be in good health when they get old. The staffordshire Bullterrier is a well muscled dog and the more muscles the more important it is to get allround excercise. My husband Micke wanted to excercise him in weight pulling and started to teach him the technics for it. Of course Mr. Blue loved it, but we're very happy that we took the test, cause weight pulling probably isn't the best excercise for him.



The parents:
They are registred in
The UK Kennel Club.

"The Blue Legend"
Sire:
CH Valglo Jeff's Choice
Dam:
Unus Kaltrina
We ourselves have picked up and imported and met all parents except for Mr. Blues sire that lives at another kennel. Everyone was very nice and friendly dogs. Mr Blue looks very much like his mum.





Feel free to send me an E-mail!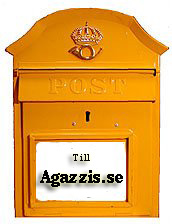 Click on the map, to find at "Hitta", were Anneberg is located!
Mina Länkar:
Swedish Kennel Club www.SKK.se
Swedish Staffordshire Bullterrier Club www.SSBTK.se