Welcome to
Kennel Agazzis!


My name is Lena and together with my husband Mikael we're planning breeding of Staffordshire Bullterrier. We have five Staffies that we've imported from the U.K.
The male is called Blue and the female is called Diamond. We also have three puppys that we're gonna use further ahead in our breeding called Kayla, Shoot and Blaze. We live in a house with a big garden with forests all around us, so we do a lot of outdoor activities. We go for walks every day, bicyclerides and sometimes also pulling a light trailer.

I spend all my time with my dogs.
About the female Kayla:
Name: Dance with me Darling
Reg. nr SKK:

SE31261/2014


Born:

2014-02-19


Showmerits: Not shown yet


DNA Tested:
L-2HGA Hereditarily Clear
HC-HSF4 Hereditarily Clear
vaccinated according to schedual
Hight: Probably will become 40 cm
Vikt:
Colour: Blue with a large white marking on her chest.










Dance with me Darling




Kayla is a calm and very nice female. She can play and have fun with the other pupppys, but is also very comfortable lying in the lap.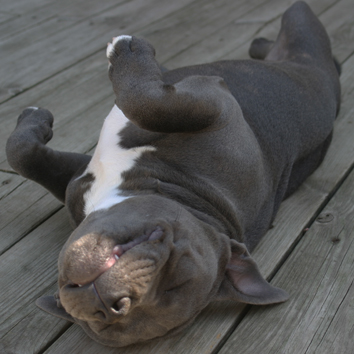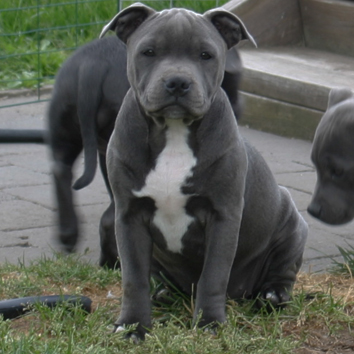 Movies:
Coming soon...


The Parents:
Are registrerd in
The UK Kennel Club.


Fader: Valglo All Eyes on me
Moder: Unus Kaltrina
We've picked up and imported the puppys ourselves and met Kaylas mum three times earlier and she's such a lovely lady. We haven't met the sire since he lives at another kennel. She's also the Blue Legends mum and it's gonna be so exciting to see them grow up.









Feel free to send me an E-mail!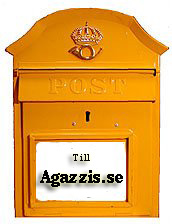 Click on the map, to see at "Hitta", were Anneberg is located!
My Links:
Swedish Kennel Club www.SKK.se
Swedish Staffordshire Bullterrier Club www.SSBTK.se