Welcome to
Kennel Agazzis!


My name is Lena and together with my husband Mikael we're planning breeding of Staffordshire Bullterrier. We have five Staffies that we've imported from the U.K.
The male is called Blue and the female is called Diamond. We also have three puppys that we're gonna use further ahead in our breeding called Kayla, Shoot and Blaze. We live in a house with a big garden with forests all around us, so we do a lot of outdoor activities. We go for walks every day, bicyclerides and sometimes also pulling a light trailer.

I spend all my time with my dogs.
Name:

Blazes Fantasy Illusion


Reg. nr SKK:

SE31520/2014


Born:

2014-02-09


Showmerits: Not shown yet


DNA Tested:
L-2HGA Hereditarily Clear
HC-HSF4 Hereditarily Clear
vaccinated according to schedual
Hight: Probably will become 38 cm
Vikt:
Colour: Blue with a large white marking on her chest.











Blazes Fantasy Illusion




Blaze is a lively and friendly girl. She can play around and have fun with the other puppies, but settles happily in your lap, and is nice and easy. They have so much fun when they play together all. Blaze is a fantstisk swimmer. She can swim and jump up out of the water to catch the ball or a fly. Blaze is the puppy who enjoys most kissing and licking all the other dogs.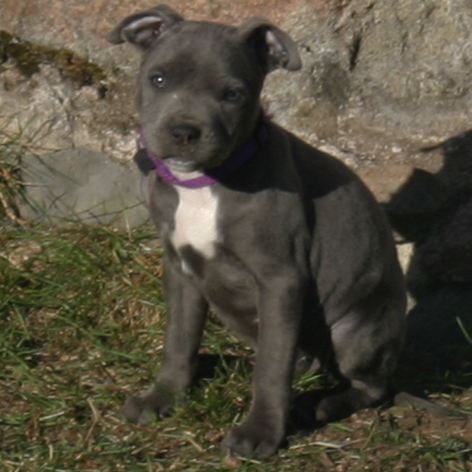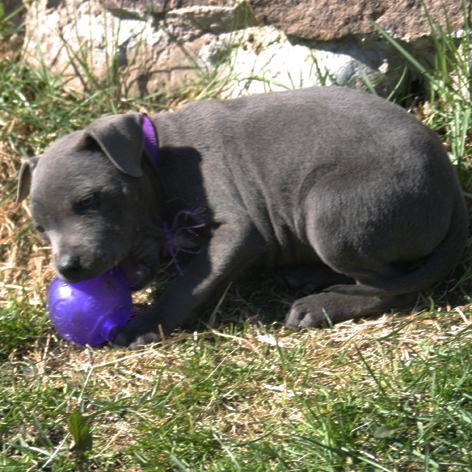 Movies:
Hopefully will be added soon...

The parents:
Are registred in
The UK Kennel Club.

Sire: Jack's What a Cracker
Dame: Magical Blue Beauty
We've picked up and imported the puppys ourselves and met both parents to Blaze. Both were really nice dogs. I liked her father so much "Rocco" cause I missed Diamond when we were gone and he reminded me som much of her.







Feel free to send me an E-mail!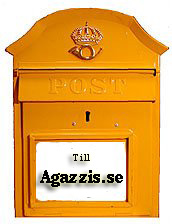 Click on the map, to see at "Hitta", were Anneberg is located!
My Links:
Swedish Kennel Club www.SKK.se
Swedish Staffordshire Bullterrier Club www.SSBTK.se