About the wonderful
Staffordshire Bullterrier.
THIS IS UNDER CONSTRUCTION...
The Staffy is one of the few breeds that have it written in the breeds standard that it should be child-friendly and in has the nickname "The Nanny Dog". It is a true philanthropist. It loves all people, but especially children. I think it has to do with its curiosity, patience and tolerance. The Staffy today counts as a distinctive family dog. It was conceived for affection and kindness and use is socially and exhibitions. In recent years seen an increasing number of Staffords also in agility and obedience context. I fell for staffys character. It's an extremely affectionate and friendly dog ​​who finds himself at home in any environment. The modern staffordshire bull terrier is characterized by a stable temperament.The Staffordshire Bull Terrier does everything full throttle: play, work and love. It is extremely courageous and obedient, affectionate with a sense of humor. It's a dog with a lot of confidence and a charisma that makes it hard not to get stuck for it. They are very curious of themselves and highly trainable if somewhat stubborn. The memory is excellent and there, once learned is that mountain. Staffords are intelligent and take fairly well to obedience training, as they are eager to please you. They make good watchdogs, as they usually only bark for a reason. They will passionately defend their family from harm, but are not particularly protective of property. His intimidating look will deter almost any intruder, so this makes him an excellent guard dog! With its low, wide profile distinguishes it from the other "bull" breeds and never felt threatened and the exuberant body language, where all the body parts involved, disarms the oncoming immediately. They do have a high prey drive and will often chase cats and other small animals. They are surprisingly sensitive and they will crave your attention and companionship.
They want nothing more than to be your faithful best friend.
Temperament:


Since the breed was recognized as a separate breed in 1935, breeding has purposefully focused on suppressing the fighting force without the breed lost its strength, courage and intelligence. Although Staffords is how friendly whatsoever towards people, children even if the kids fight and toys smoke in the air so it will be below a staffes dignity to participate in any other way than to interfere in the way. It is absolutely reliable, but you may have to watch up for other animals. Keep in mind that these dogs were bred out of the terriers and bulldogs intersections that have received a well-deserved reputation of being dog aggressive, so it's important to socialize a puppy with other dogs. With proper socialization as a puppy and young dog, it ia safe in the company of other animals. A Staff is rarely the one that starts a fight, if he's challenged, it can respond and then it will go fast. One should keep track of their Staffy when other dogs are around.
These breeds have both fighting spirit and tenacity, so never trust 100% on your stafford should not ask for anything! In the company of other dogs, you must consider that your dog may never start a fight!
You should always have full control over your dog. Things that other dogs can have tiny gruffs about and minor disagreements about, when a staffie is involved, it can lead to fights to the death.
Such incidents must be avoided!
It affects all staffordshire bull terriers if someone misbehaves, as a staff-owner, you must be prepared that it is always you and your dog gets the blame, regardless of how it all happened!
If you let your staff loose - you must be a proper pack leader.
It has, sadly, due to negligence, imprudence and lack of dog husbandry, been accidents where Staffords been involved.
Do not let it happen more times!
As with all breeds, a staffy is not appropriate for everyone.
They do best with a fenced-in yard, as they can be a bit impulsive and they are not car smart.

More about the character/Qualities/Mentality:
The Staffordshire bull terrier is a tenderness thirsty, curious, energetic, soft-week towards it's leader, humorous and cheerful soul . It is social , active, intense , positive, and loves full speed and shows it with intense rejoicing . At the same time love just being at home with his family and cuddle . The most important thing is to be involved , what activities than are offered . A true friend who loves the good life. He loves physical contact , warmth and rest on soft surfaces. He will want to go for rides in your car, cuddle in your lap, and sleep in your bed. He usually don't like rain and bad weather. However, my staffys don't mind doing it, they are accustomed to go out regardless of the weather. A staffie can easily overheat when it's hot outside , so exercised then with caution. It loves exercise, walking and playing. A staffie needs gladly daily exercise. Staffordshire Bull Terriers are physically very strong and durable, but you have to look out for their great ability to not show pain or discomfort. A Stafford has thus hurt as much as other dogs but does not show it the same way. Wise is because often revise their dog after "flaws ". Although the staffy have high threshold as regards physical pain, in contrast, is often a delicate dog.
He takes often offended when dogowner gets mad. It is important to look out for this at the pup -rearing, which must be done with great kindness and consistency.
One can easily believe that a dog with a fight dog's background would be tough and hard, and inappropriate as a family dog​​. That's not the case, quite the contrary.
The old dog fighters was known for its quiet and pleasant mood. - They saved their temper and fights for the actual fight . Outside the ring , they were calm and let themselves rarely be provoked. The modern Staffie has left this :It thrives with many people around , love people in general and especially children . It's good to have a fenced yard , as they can be a bit impulsive and they are not car smart. The Staffie is usually not a good swimmer. They work frantically with the front legs in the water, making that the behind flag.

Appearance: Staffordshire bull terrier is a smooth-haired breed, which has great strength for its size. It must be distinctly muscular and active and agile.
History:

The unofficial history dating back to the 1800 's, but to get accurate data is difficult. We know that around the year 1800 there was a dog with similarities to today's Staffie , it can be seen in paintings of that era.
When the Romans invaded the British Isles, they were met with combative residents that using dogs tried to defend the beaches. The Romans were impressed by the English dogs and took home copies to Rome, they were used for example in the gladiator games. They also became popular in the Roman army and was spread by troops across Europe.
The dogs became the origin of the different , local breeds, which were used as guard dogs and herding dogs. In England, the result became for instance, the English Mastiff - documented that breed back in the 1100s.
At that time, bull baiting is a popular entertainment, but in 1835 bull baiting was banned and then came the interest in dogfights. They had previously tried to mix in fiery terrier blood in fighting dogs and now they went in for it seriously. The terrier chosen was Old English Terrier, ( which resembled Manchester Terrier ) . The names of these fighting dogs were a little different, " Bull and Terrier" was the most common, and it eventually became a Bull Terrier. These resembled our modern Staffordshire Bull Terrier, but varied in size and weight between the < 10kg -> 25 kg. These " Bull Terriers " were effective fighters and breeding methods were simple: Only the victors were used for breeding, the result was a dog with courage and ambition and with a very high pain threshold.
Staffordshire Bull Terrier originates from the bull and terrier dogs which occurred mainly in the Midlands and among other things used in dogfighting . Stafford has its roots in the Black Country , originally a specific coal mining , but now a generic name for the huge mining and industrial areas in and around Birmingham , Staffordshire and the Midlands. These areas were extremely densely populated and wealthy children and in such environments, it was of course a requirement was that the dogs were absolutely reliable, especially against children. It is not for nothing that they are called " Nanny Dog" at home in England. Every attempt at aggression toward humans led to the dogs simply removed .


Dogfighting was outlawed before the 1930, fights were still routinely held in a more or less clandestine fashion. It was around this time that the dog- fighting activities were actually abolished through police intervention, and by 1930 the law began to be fully enforced.

Then the idea was born to them, that these much appreciated dogs, could become a new approved breed. There were people involved in "The Black Country", Staffordshire who wanted their dogs to be established as a separate breed. Most of these people were miners and smiths, who engaged in dogfights in their spare time before it was banned. They wanted to preserve this breed, and the main thing was considered that with the material they had to work out a breed standard.

The breed was approved in 1935 by the English Kennel Club that held the stud book open for more dog enteries until 1938. A total of 617 dogs of very different type and background were recorded then. Staffordshire bull terrier quickly became very popular and loved. Using two Staffies, the Jim Dandy, owned by Jack Barnard and Fearless Joe, agreed a standard that applies today, though with some adjustments.

The original Staffordshire Club was established by more than 40 breeders and Jack Barnard was the first president. The dogs were first shown at the hertfordshire Agriculture Society in june of 1935, just one month after the club's establishment. The follwing year, Gentleman Jim was the first champion with The Kennel Club.

Dog Shows: The first club show for the breed took place in August 1935 at Cradley Heath in the West Midlands where 60 dogs and bitches were entered . The founder club was named The Staffordshire Bull Terrier Club and is affectionately known as 'The Parent Club'.

in 1936 Cross Guns Johnson, owned by Joe Dunn, won the class at Crufts Dog Show, the first time the Staffordshire had entered. The picture below is from Crufts in 1939.

From the most dominant of these male lines Ch. Gentleman Jim was born in 1937.
He produced over 250 puppies and has meant a lot to the breed's early development. The breed received championship status in 1938 when CC's were awarded for the first time at the Birmingham National. Below: The first two Champions of the breed were Ch. Gentleman Jim and Ch. Lady Eve.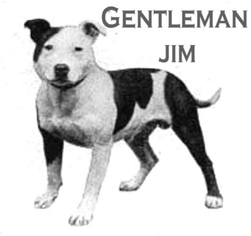 In 1943 the number had grown to 2,456 staffies, quickly marched then!
The first championship show for was held by the Staffordshire Bull Terrier Society,
attracted 300 dogs in june 1946.
Apart from some agricultural and hunting breeds, there are few breeds that can show up as a well-founded and well-motivated standard, as the Staffordshire Bull Terrier. Every anatomical detail is the result of 150 years of fierce battles in "the pit". No dog with no shortage could ultimately make it out alive out of the ring. You could say that the modern Staffie is a compact version of the old battle dog, they strived to maintain it's muscle mass, but in a shrunken form.

Of these, a limited number have a decisive influence on the breed.
Male dogs with the most registered offspring between 1935-1937:
Vindictive Monty 35
Jim the Dandy 30
Game Lad 25
Rum Bottle 24
Fearless Joe (död 1936) 17
Corinthian Rouge 15
Male dogs with the most registered offspring between 1935-1943:
Ch Gentleman Jim 108
The Great Bomber 84
Ribchester Max 79
Jim the Dandy 57
Chestonian Overdraft 57
Vindictive Monty 50
Rum Bottle 49
Brigands Bash'em 44

Among the first entered dogs and even today, some racial or breed typicals is labeled. The Bull Terrier in its registry once part of the " newly baptized " Staffies existed, English Mastiff , English Bulldog , and last but not least the intersections between these and probably some other breeds. Several sources indicate such the Whippet!
The requirement for entering the dog was at that time, as now, that the dog would meet the standard. In certain colours, in terms of size and genetically very different dogs that the Staffordshire Bull Terrier is decended from.
With this assumption and the short time, basically from the 2nd World War, until now the breed in Stafford's is not an entirely homogeneous as breed. This has in turn given rise to various types tex terrier, bulltypes but obviously there's only one!
Noticeable is also the number piedcoloured ( white base color with spots ) dogs gradually declined.
In the debate surrounding the breed is sometimes the terrier blood is so small that the Staffords should rather belong to a " Utility Group" than the" Terrier Group"!
During the first enteries and this breed work was guided by the breed standard, but of interest is that there was an initial proposal that, among other things, specifies the height applicable today, namely 16 inches. The first 13 years were, however, two inches higher elevation and was accepted pricked ears. One can only speculate on the reasons, but certainly one can recognize that it must have facilitated the operations considerably to have " wiggle room " in the first years ?
Perhaps it was necessary given the strong link to the Bull Terrier. The new breed quickly became popular, perhaps because of the similarity with the type of intersections that were so common all over England but now given a name , standard and the poosiblity to show the dogs. The Staffordshire Bullterrier was also a dog of the common people, resources and the working class if I may say!
Rasstandarden 1935:
The first standard, which was approved in 1935 by the English Kennel Club, was revised in 1948 and 1987. The breed standard from 1935 was of course a compromise, and in the words of Joe Dunn, who is a major protagonist in both the formation of the first breed club in England and the creation of the first standard
- "... Naturally, dogs of all sizes and colors, and overpriced of different types, will be shown at first, the reason for this thatthere has never been a standard to aim at ...".
HN Beilby, another prominent figure in the early history back in 1935, writes:
- "... A good deal of variation was bound to exist and the standard was Accordingly worded so as to definy the perfect dog, but not to exclude or unduly penalize others Which did Not entirely the comply with it." Something to remember for those who still argue that one should strive for "the old type" - whatever that was ...?


The revision 1948:
If you compare the standard from 1935 with the revision that was conducted in 1948, it is mainly
two changes that are particularly interesting.
One is that the height that was lowered from "about to 18 inches " ( 38.1 to 45.7 cm) to " 14 inches to 16 inches " ( 35.6 to 40.6 cm) and with the addition that the height would be set in relation weight.
Weight cut-off were not changed .
The second is that pricked ears were no longer allowed, which might confuse some, but then one must remember that it is not until 1935 that the Staffordshire Bull Terrier can be registered as a separate breed , until then could these dogs registered as Bull Terriers . Some of the dogs that 1935 was recorded as Bull Terriers were later re-registered as Staffordshire Bull Terriers , but it is unfortunately difficult to track these dogs back in the records because the dogs at that time often had the same name (to distinguish the different dogs used to be in front of the dog name put the name of the owner , ex Mrs. Bolton's Bamey ) . Through the narrower indication of the height , it confirmed the trend towards conformity that race has undergone since its recognition.
It has also been argued that this meant the definitive step away from what has been called " terrier type" to a more " bully type" but it was also a consequence of it back in 1935 , there were lines and individuals who were less than 15 inches , and the was additionally proposed in 1935 that the height back then would be set to 14-16 inches , but by a generous height indication could obviously much more individuals are patterned in as Staffordshire Bull Terriers .
The first standard was used the addition of a score and where the head was attached great importance. The scores disappeared in revision 1948, but the head is at a Stafford still of great importance.
The revision 1987:
This was done primarily for adaptations to English Kennel Club standard phrases for the breed standard. Over the years, to some extent, the interpretation of the different parts of the breed standard changed, but much has the same interpretation and meaning as in 1935 and 1948, and therefore is a good knowledge of all three versions of the standard was of great importance for the understanding and interpretation of current breed standard from 1987.



The Staffies Swedish hitory:
When the first staffies came to Sweden is a bit uncertain, but it was in the early 1960s. The start was occasional imports and some puppy litters from them. 1962 imported "Rivorich Major Jake" by Patrik Häggström. First breeders became Lillemor Branzell, was bitch "Bandits Brinfrounda" whelped the first Swedish litter in 1963. Our eastern neighbors started somewhat earlier and with greater breadth, largely thanks to an American enthusiast in Helsinki, Steve Stone, who started a breeding based on imports. "Bandits Belle Lettres" in 1964. From one of these early Finnish litters bought Sigvard Olsson, Gävle, 1968 a bitch "Aura Staff Lady Amanita" - which became a starter to kennel Sunstaff.

Numer of registrered Staffis in the Swedish Kennel Club:
Apparently exploded more or less the number of registered staffies from the mid -00s , and staffies were quickly climbed the popularity charts. The increase might be double-edged, the positive is that so many have become aware of what a great breed it is - and with an increased presence in the community, it is easier to overcome prejudices about the breed.
The negative is that if the increase goes to quickly see e.g disreputable breeders an opportunity to ern quick money.
Moreover, if the popularity trend suddenly swinging , so chances are that you are selling to people who really should not have a dog.
NOTE These statistics were produced by the end of 2011, therefore , not all registrations for that year in accounted for.
In England today there are approximately 40,000 registered staffies.
In the mid -1990s were recorded in England from 15 to 16,000 puppies a year and added to this will be many puppies sold unregistered as ' pets ' . The Staffordshire Bullterrier is now one of the ten most common breeds in England.


Breedstandard Staffordshire Bullterrier
FCI-nummer 76 Originalstandard 1987-06-24 FCI-Standard 1998-01-20; engelska SKKs Standardkommitté 2003-04-25

The head Short, deep through.
Scull broad, distinct stop.
Nose black nose.
Foreface short foreface.
The lips should be tight and clean.
Cheeks very pronounced muscles.
Jaw A bite in which the outer side of the lower incisors touches the inner side of the upper incisors. The badly undershot or overshot bite is a serious fault.
The Eyes Dark preferable, but may bear some relation to coat color. Round, of medium size, and set to look straight ahead. Light eyes or pink eye rims to be considered a fault, except that where the coat surrounding the eye is white the eye rim may be pink.
Ears Rose or half-pricked and not large. Full drop or full prick to be considered a serious fault.
The neck is muscular, rather short, clean in outline and gradually widening toward the shoulders.
The Body is close coupled, with a level topline, wide front, deep brisket and well sprung ribs being rather light in the loins.skall vara kompakt, samlad och muskulös.
The Tail is undocked, of medium length, low set, tapering to a point and carried rather low. It should not curl much and may be likened to an old-fashioned pump handle.
Extremiteter:
Forequarters Legs straight and well boned, set rather far apart, without looseness at the shoulders and showing no weakness at the pasterns, from which point the feet turn out a little. Dewclaws on the forelegs may be removed. The feet should be well padded, strong and of medium size.
Hindquarters The hindquarters should be well muscled, hocks let down with stifles well bent. Legs should be parallel when viewed from behind. Dewclaws, if any, on the hind legs are generally removed. Feet as in front.
Gait Free, powerful and agile with economy of effort. Legs moving parallel when viewed from front or rear. Discernible drive from hind legs.
Coat Smooth, short and close to the skin, not to be trimmed or de-whiskered.
Colour Red, fawn, white, black or blue, or any of these colors with white. Any shade of brindle or any shade of brindle with white. Black-and-tan or liver color to be disqualified.
Height at shoulder 14 to 16 inches. Önskvärd mankhöjd: 36-41 cm Höjden skall vara i proportion till vikten
Weight: Dogs, 28 to 38 pounds; bitches, 24 to 34 pounds, these heights being related to weights. Non-conformity with these limits is a fault. In proportion, the length of back, from withers to tail set, is equal to the distance from withers to ground.
FCI-nummer 76 Originalstandard 1987-06-24 FCI-Standard 1998-01-20;
engelska SKKs Standardkommitté 2003-04-25
The Stafford Knot:
Maybe you have wondered about those for Staffies so typical and fine leather collars and leashes with brass decorations? Among the brass decorations we find usually a rope knot or " The Stafford Knot " as the real name, and which has become a characteristic found in Staffordshire Bull Terrier. The earliest trace of the symbol , we find the remains of an old stone cross in the churchyard at Stoke -on-Trent , probably from about 750-850 e Kr. The origin for The Stafford Knot , however, is raised in an ancient mystery. There is an old legend that says that it would have been a sheriff for a very long time ago that came in an efficient way to hang three criminals while in a rope, but it is considered today to be too fancy . The earliest secure the existence of The Stafford Knot is a seal today kept in the British Museum . It belonged to Joan, Lady of Wake. The seal sees clearly a pattern of a number rope knots. Lady Macbeth died in 1443 without leaving any children, and her belongings went to her nephew Humphrey, Earl of Stafford. Humphrey appropriated the Knot of Rope ( repknuten ) which subsequently came to be known as THE STAFFORD KNOT . It became his trademark , probably just as he in 1444 was appointed Duke of Buckingham ( Duke of Buckingham ) . The Duke of Buckingham or his descendants ( who also inherited the title Earl of Stafford, which is an older title than Duke of Buckingham ) , inherited The Stafford Knot as his personal characteristics . The rope knot is also used for many generations to decorate furniture , draperies and buildings. As time passed, the rope knot was used by more and more in the county and it was eventually incorporated into the town of Stafford's coat of arms .
Through the years, The Stafford Knot associated with many organizations such as the Staffordshire Regiment and Staffordshire Police , and many associations and institutions have included it in their badges and shields.
It came then also quite natural that The Stafford Knot eventually ended up at our Stafford's necklace when their owners who were miners, chain smiths and other hard working people in Staffordshire , itself made ​​her collar and leash and happily adorned them .
Text: Catarina Ericson

I hope to learn more than
I know and my motto has
always been:
"That you will never be perfected,
but I strive to be."

Sources been used: I've used more then these, but in broad terms...The Swedish Kennel Club,
The Swedish Staffordshire Bullterrier Club.

More links and references:

Svenska Stafffordshire Bullterrier Klubben
Svenska Brukshundsklubben MH/BPH
SKK avelsdata/skapa ett konto för att se statistik om t.e.x staffen



Hittar du annat kompletterande material eller felaktigheter är du välkommen att maila mig.