Welcome to
Kennel Agazzis



(Click

on the

flag

to the left to read the swedish version)


I'm planning next litter of puppies spring 2017. Now I have two blue puppys with white markings for sale to the right home.
I have several intermediate bitches that I now have much work ahead of us with training, shows and tests. After that, I'll be planning puppies. Until then, and if you want to wait that long you are welcome to come and visit me and meet our dogs. I have several families on the waiting list who have been here and visited us and once I am planning puppies there is the opportunity for them to reserve a puppy. Email me and tell us about yourselves.

My G-litter was born 2014-06-27.
Click the image below to visit their webpage




I'll give You and Your puppy a good start and I'm always
here for my puppy buyers!
All this comes along when you buy a puppy:

PUPPYBOX
With food and Candy:
The pupps have eaten Magnussons Meat n'biscuit junior here as a base. They also tried Nordics fresh food and tried all sorts of protein sources.
PEDIGREE
Swedish Kennel Club pedigree papers
VETERINARY
Eight weeks Vaccinations and microchipped
VETRINAIRY INSPECTION
A report, Not older than seven days.
WELCOME PUPPY
Swedish Kennel Club information for You who's bought a puppy.
PURCHASE AGREEMENT
I follow the Swedish Kennel Clubs rules and since all pupps get registred I use their Purchase agreement.
Swedish Board of Agriculture
In Sweden all dogs must be registred in the Swedish Board of Agriculture so we fill in the paper when You pick up the puppy.
Insurance
All my dogs are insured in Agria. My own bred puppys gets an insurance for hidden faults, up until they are 36 months.
CD
With all pictures and movies from all the weeks until Your puppy up.
MY OWN COMPENDIUMWhen You book Your puppy You'll be given my own written compendium about all practical things to make everything easier when You take Your puppy home with You. To prepare Your home and all Your family members so You can decide what You want the dogs rules to be, so everyone can be apart of the puppys life. The Compendium was origanally written for the minature pinschers all kinds of tips and info but now I've added and written in the difference with the the two breeds. The compendium is now 22 pages.
MY KENNELPAGE and FACEBOOKGROUP
When You booked a puppy You will recive the loggin in to Kennel Agazzis kennelpage who's made for my puppy buyers. NThere You can read everything about our yearly kennel meeting about training excercises we've preformed, other training tips. Kennel Agazzis facebookgroup is a closed member group which no one else can add on to without my acceptance and that's an easy way for You to share Your daily happenings with Your puppy. Here can also You as a puppy buyer share Your experiences and tips You've got. I think it's good to learn from each other and much more fun. All my puppybuyers is invited to our yearly kennel meetings with happenings, dog instuctors and my buyers have beome good friends with each other. We always finish the day with a great meal and socialize. They ask questions in the fb-group to each other and much more.
CHECKLIST
A short list with good advices for the first period. A short summery of what the pups eaten, feeding times it's had here, vaccinations, and things in the near future.
PUPPYBLANKET
En A blanket from the puppys box that smells from the mother and siblings. I also send a small peace of a T-shirt with my smell and from all the other dogs here. This always works well in the car home.
PUPPY LEASH
A soft adjustable neckleace and leash that's easy to use the first months.

When You pick the puppy up it's:
At least 8 weeks
Registrerd in the Swedish Kennel Club (SKK)
Microchipped
Veterinary examined.
Vaccinated agains, HCC, Parvovirus and Paravirus.
From five weeks it's been insured in Agria.
We thouroughly go through all the papers. I tell You how to easy take care of the puppy, how much food to give it.
I can't leave any guarantees. It's not possible to do on such a small puppy. The puppy has been examined by a vet and insured since five weeks of age. I don't have any demands that You have to show Your pup or compete in any way with it. I don't require that You hip/Elbow X-ray Your dog. If You would be interested in showing, competing or activate Your dog with obedience, agility or something else I would be very happy. The puppy will be even more happy! I will always be here for You that have purchased a dog from me with guidance and will be happy to help You with questions and advice. What I don't know I will be happy to find out for You, that means I'll be learing more also. If You have the possibilty to come to me I can always be of assistance regarding showtraing. I have to work with my dogs on a daily base anyway.

Welcme to send me a mail!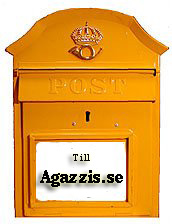 Click on the map, to find at"Hitta", were Anneberg is situated!
Mina Länkar:
Svenska Kennelklubben www.SKK.se
Svenska Staffordshire Bulltrrier Klubben www.SSBTK.se